Sep 9 2013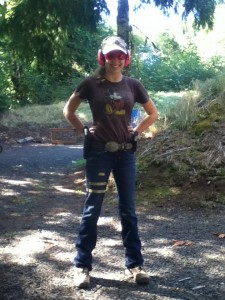 Packing Pretty is pleased to announce that Nicole has agreed to be a regular author for Packing Pretty. Those of us who remember Nicole's first competitive match are very proud to see her grow in her skills and her willingness to share her experiences with other women (and the guys too).
And now, a bit from Nicole!
Hello my name is Nicole. I'm a sixteen year old from a rural Oregon town. I grew up around guns and shooting. From shooting trap with friends to hunting for my family. It wasn't until I turned thirteen though when I really got interested in shooting in competitions.
It was an experience I'll never forget. I walked up to the firing line and my Range Master looked at me and said "I'll help you through it." It was a slow go but I eventually got through the first stage, then the next and the next. Six stages later I looked at my dad and he knew he was in trouble. I was instantly hooked for life. I wanted to shoot again as soon as I could and with every match I got better. But there was a problem. I was shooting a .40 caliber handgun. I would get so tired and frustrated because I could barely make it through a match. But then my dad finally bought me an XD 9mm. I was set. I could shoot a whole match now and not get tired. It made all the difference and I knew this was something I wanted to pursue.
When I first started shooting in competitions I didn't know how big the world of competitions was but now I see myself as part of that huge family. I want to continue to shoot in them for as long as I can and hopefully improve with time and practice. I want to eventually make my way closer to the top of the female junior division. I would love to travel to different places and shoot and continue to get better. For me, shooting isn't just about getting better. It's about the experience. About having fun with the people you are with and helping each other.