May 26 2013
Last March, there was an incident at West Coast Armory / Bellevue Gun Club's "Right On Target" class that unfortunately resulted in the death of a student. Details of this incident can be found at here.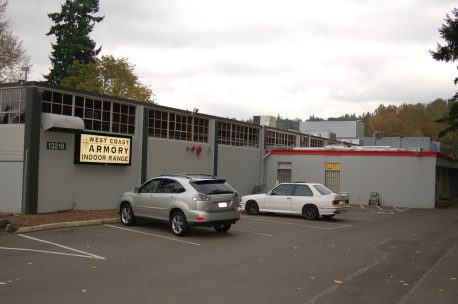 *Photo courtesy of Bellevue Patch
First and foremost, Packing Pretty would like to extend its sympathies to all who were involved with this class, including the other students, families, as well as the instructors.
Unfortunately there has been another incident involving West Coast Armory and Bellevue Gun Club last February when one of their employees, Blaine Everett Chapman, took control of the Packing Pretty email accounts, web hosting account, and obtained a business license in the name of Packing Pretty. Coincidentally, Mr. Chapman works in Online Sales for West Coast Armory. Legal action is being pursued with regards to this incident. More information on this subject can be found here. Since employees of West Coast Armory have tried to create the appearance of some affiliation with Packing Pretty, that this statement must be made. West Coast Armory has even gone so far as to market this class as being taught by Packing Pretty, which is untrue.
Packing Pretty is in no way affiliated with West Coast Armory or Bellevue Gun Club, and the classes being taught there are not endorsed, sponsored, authored, instructed or approved by Packing Pretty, nor is the class in question endorsed by the NRA.
According to West Coast Armory's Website, "Bronze members may only rent pistol caliber firearms and must have another person or their own firearm with them." Staff members have referred to this policy as a "suicide policy" on their facebook page. Media has reported that the student in question was alone, and did not bring his own firearm.
Packing Pretty has never participated in a beginners level live-fire class shorter than 8 hours, and that does not include time for staff to engage each student on an individual basis. Student to instructor ratio is very important, especially in a beginners class. It appears the ratio for the class in question was 8 students to one instructor. This leaves about 22 minutes per student throughout the entire class, and much less during the live fire portion.
Here is an excellent article that brings up some important points to consider when finding the right firearms class or instructor.