May 17 2013
Many of you may have seen the Facebook post on February 19 regarding Packing Pretty's website and email accounts being hacked. Sadly, this is a true statement. The email account was compromised on January 30, 2013, and used to reset the password to Packing Pretty's hosting account, as well as to access many emails. Gracie has not accessed the accounts since the passwords were compromised. If any of you have received an email from gracie@*acking*retty. com between January 30, 2013 and February 3, 2013, the email should be considered counterfeit, and we apologize for the inconvenience.
The IP address (50.20.189.137) of the perpetrator is logged, and it has been traced back to a specific individual employed by a gun club and firearms dealer in Washington who started a firearms training business shortly before this incident. This individual has admitted his involvement and is not Gracie. Further investigation has also shown that this person, and possibly others involved with the company in question have taken other steps inferring that they are claiming ownership of Packing Pretty, including obtaining a fraudulent business license in the name of Packing Pretty on February 5th, 2013. The person who obtained the business license is employed by the gun club and firearms dealer in question and is not associated in any legitimate way with Packing Pretty.

– Packing Pretty Email access log
Interestingly enough, the President of West Coast Armory and Bellevue Gun Club, Lance Kilgore, responded on February 4th to my inquiries about Packing Pretty being hijacked from his IP address by saying "West Coast Armory does not monitor what 22 employees, or several hundred clients use the public network for. Nor do we monitor employees during their lunch hours." and "I consider your personal attacks to be slanderous, harassing, threatening and libelous and you are not to contact West Coast Armory or myself again."
What does his employee say about it?

Business license information can be found at http://bls.dor.wa.gov/LicenseSearch/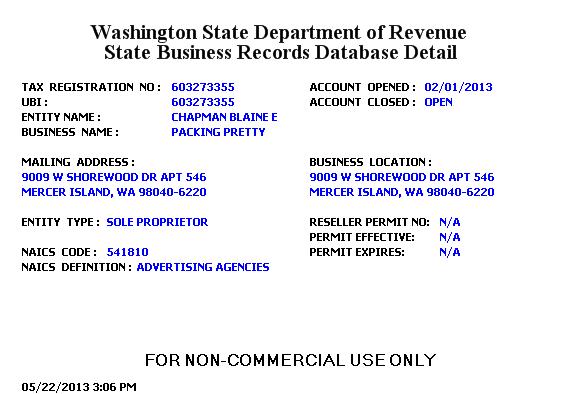 West Coast Armory, Bellevue Gun Club, West Coast Tactical & Law Enforcement Supply, and Weapon Outfitters are all registered trade names of K&S Investments,   with Lance and Marilyn Kilgore listed as the Governing People according to Washington State Department of Revenue records.
Lance Kilgore and Blaine Chapman have both provided emails suggesting that Gracie is somehow responsible for this take over attempt.  However, Gracie has supplied a sworn declaration stating "Blaine Chapman obtained a business license for the name Packing Pretty without my knowledge" and that she was not involved in attempting to sell or transfer Packing Pretty.  Simply put, Gracie has stated under oath that she has no part of this as it was done completely without her knowledge.
I can assure all of that Packing Pretty is not affiliated with or owned by West Coast Armory, Weapon Outfitters, or Blaine Chapman.  The continued use of the Packing Pretty name on their social media pages is without authorization and considered to be a trademark violation.
Hopefully these issues will be resolved in the near future, and Packing Pretty will begin to resume normal operations. Until then, Packing Pretty would like to thank all of you for your continued support and ask that you remain patient.