Sep 26 2012
I got to thinking yesterday about custom work on sidearms used for daily carry. Obviously I am a fan of customizations/modifications, as is evidenced by the "Pink Gun of Shame". But all these changes can cost a buck or two, and usually involve sending your gun to live with the gunsmith for a while. So, is it worth it?
Looking back on my shooting career, I have always been blessed enough that should I want a customization (or five) done to firearm, I could afford to spend up to the amount that I originally paid for the gun on these little pleasures. It became of thing of habit, every time  I picked up a new firearm I could come up with at least four things that I wanted to have done to it. It continues to be a vicious cycle, where the more I research, the more I want to have done.
Some will argue that there is a perfect gun out there that does not need any modifications whatsoever. But every person is different, and where a Glock might be perfect for one, an M&P may be the jackpot for another. So if you purchase the best firearm for your needs, fit, wants, etc. this argument may be true. You may not need work done on it; but sometimes a few  customizations and modifications can just push your skills and abilities with that firearm over the top or give it that edge that you're looking for.
The purpose of a modification is to make the firearm work better for you in your hands and under the conditions you intend to shoot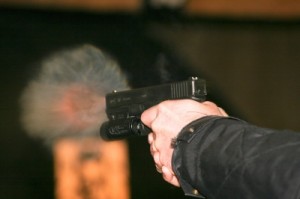 in. Your sidearm should become an extension of you, and it may or may not need to adapt a little bit in order to become that.
Some of the most common adjustments made to firearms are new sights and trigger jobs. Both of these things, when done and used right, can make the shooter faster and more accurate. Another big one is stippling on the grip to help the shooter keep a good "purchase" on the firearm.  These are just a few examples of how a few modifications can make a big difference.
Of course, the best bet is to start with a firearm that meets your specifications to begin with; but you'll probably be hard-up to find a gun where every little detail is 100% perfect for you and your needs. Starting with a good foundation is essential. You want to have work done because you want it, not necessarily because you need it.  If you can't shoot the darn thing without the cool modifications, that's not the gun for you to begin with.
Yesterday I went on a little road trip to see a friend of mine who happens to own Springer Precision and is a well known XD specialist. His shop is in Bend, Oregon which is about four hours South-East of the Packing Pretty Ground Control, so I took my good friend (and Packing Pretty team member) Jay Jones along for the fun.
While I was the Springer Precision shop, I had a few new  modifications done to my already highly customized pink XD(M) 9mm. The mods I had done were not for competition, or lightening the recoil (it's a 9mm, that would be pointless).  I'm not going to give all my secrets away, but lets just say I got some awesome results. One being getting a new completely custom guide rod that lives up to my lofty standards, and is going to give me a cool tactical advantage  (compared the old guide rod) for concealed carry/defense work. I also had my 4 inch Kimber CDP II 's ejector worked on a bit, and a few other guns looked at.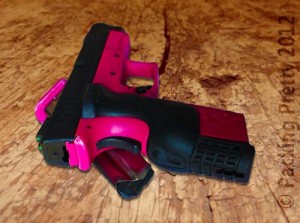 It felt like Christmas had come early as I stood in his shop watching Scott work his magic and make me a completely custom part. And I'm still walking on clouds today.
With all the work I've had done on my guns over the years, not once have I looked back and thought "You know, this really wasn't worth the time or money", and I have yet to meet another shooter who has not found equal value in the work they've had done.
All that being said, I still have plenty of firearms that I have no intention of modifying. I have Rugers, Smiths, Sigs, etc. that all shoot great and are awesome for what I use them for. But when it comes to a gun that my life is going to rely on, I feel it's my responsibility to do everything  humanly possible ahead of time to make sure that gun is going to work in my hands in such a way that I can achieve the best possible outcome. In some cases this means having work done, in other cases, it doesn't. It all depends on the gun.
Tips for getting custom work done on your carry gun:
Like I said before, start with the right foundation. Don't spend your hard-earned money on a gun you don't love and can't shoot worth a darn to begin with.
Have any customizations and modifications done by a reputable gunsmith.
I do NOT recommend any modifications that will cause any inconsistencies or hinder reliability of a firearm.
If the custom work will do anything that will discourage you from carrying your firearm, it's not worth it.
When it comes to trigger jobs for concealed carry work, don't go too light. It's easy when your adrenaline is pumping to accidentally squeeze off a round before you realize it. Competition trigger jobs and carry trigger jobs can be two very different things, and are labeled as such for a reason.
© Packing Pretty, Grace McKee 2012