Aug 8 2012
I've mentioned Crimson Trace's Midnight 3-Gun invitational several times on this website as well as social media. Were you an attendee, or involved a that the First Annual Concealed Carry Holster Fashion Show in Hudson, NY , you probably witnessed my eyes light up and a big Cheshire grin sweep over my face  as I talked about it at one point or another.  If you could see me sitting here, looking back at those outrageously fun nights, you'd see that there is still a glimmer of excitement on my face.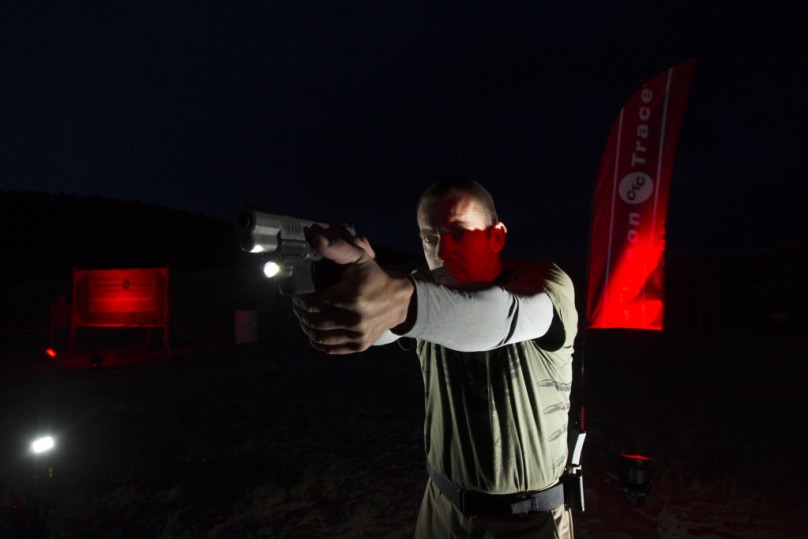 When Iain Harrison of Crimson Trace  invited me to the invitational, as well as the media days surrounding the event, I was ecstatic. Guns, flashing lights, lasers, shoot houses – and all in the dark. Seriously, I can't think of a more stimulating (or fun) match. Because I had virtually no experience shooting 3-gun, let alone shooting 3-gun in the dark, I respectfully declined his invitation to shoot it with firearms, but took him up on his invitation to shoot it with my camera.
For those of you who are not familiar with Oregon, this state has a variety of ecosystems that are all breathtakingly beautiful. While the media days started out in Portland, where rain coats are mandatory attire for ten months out of the year; the match itself took place about three hours South East of Portland in Bend.  Sitting alongside the Cascade mountain range and the Deschutes River, at an elevation of about 3,623 feet,  the part of Bend that we were in was literally the high desert. We're talking hot days, and temperatures that got below freezing at night.
Bend is considered one of the sporting "hubs" of Oregon. With the Cascades, rivers, and desert in such close proximity of each other, just about any adventure is possible. That being said, the Central Oregon Shooting Sports Association (COSSA) has a huge shooting range on 600 acres of BLM land outside the city. This California King of a range is where CTC hosted the midnight invitational.
The shooters, media, reps, etc. had the option of camping out on the range, or staying at one of the many resorts in the area.  CTC put us media folk up at the lovely Mt. Bachelor resort and the distance from the resort to the range was gapped by an easy forty minute ride on the "media bus".
Now let's talk a little bit about the logistics here so you can get a better idea of all the dirty details.
Gear we needed to bring:
Normal 3-gun gear
Weapons lights
Personal head lamp
Ammo
Gear that was provided:
CMR-201 Rail Master™ Laser from Crimson Trace
One additional Crimson Trace product for your preferred 3-gun (see Shooter Info Form)
Stage guns & ammo
What wasn't allowed :
Full auto firearms (except those provided for use at the event)
Steel core or jacketed ammo (for info about steel core/jacketed ammo read this)
Steel shot
Tracers (fire hazard in the high desert)
Winnings:
1st place $6,000 (+ another $4,000, to equal $10,000 if you won the match using CTC products
As well as various awards for High Lady, Top five shooters, and High Junior shooter.
Divisons :   The entire match was one division – open equipment.
Sponsors:
Bladetech                    Federal Ammunition         LED Lenser           Nosler
Colt Competition         FNH                                    MGM Targets        Primary Weapon Systems
Danner                          Leatherman                      Nike                       Warne Scope Mounts
Some of the sponsors had tables at the match. Both Danner and Nike were gearing shooters up with new footwear.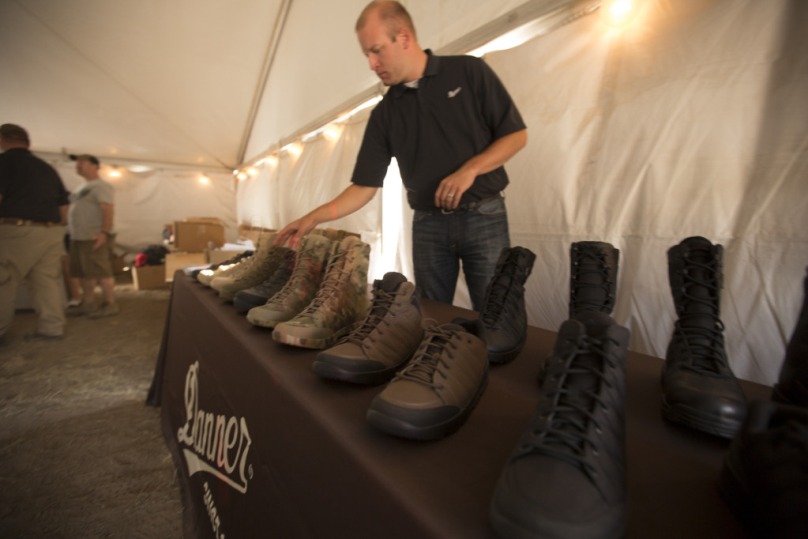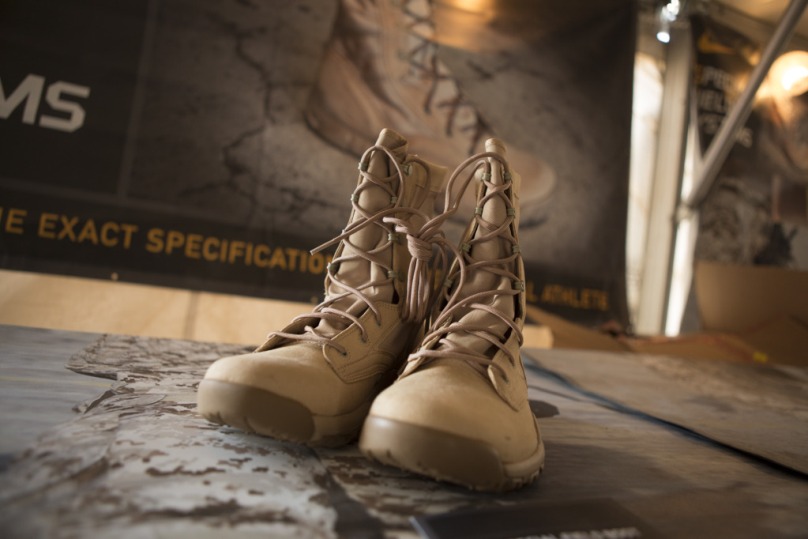 Every night was kicked off the way anything and everything good is kicked off – with food! Delicious dinners were provided to everyone via a different sponsor every night. My hat goes off to Nike for sponsoring the dinner with the best potato salad on this side of the Mississippi.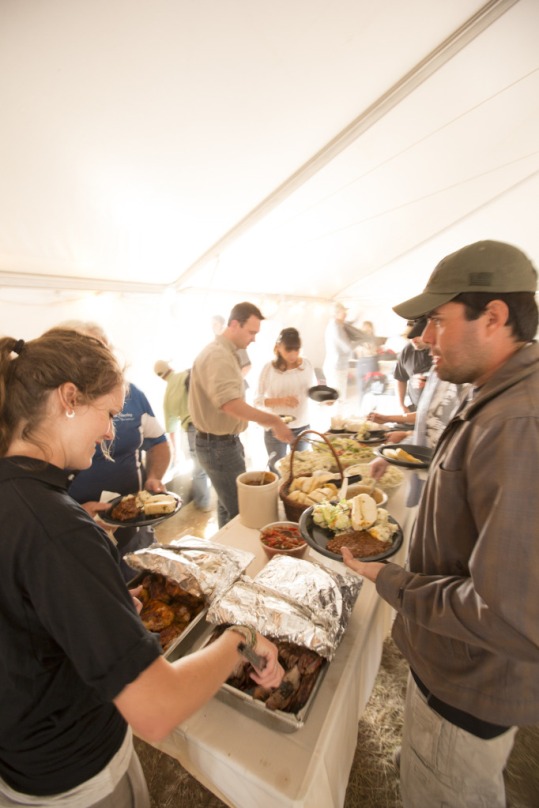 After dinner, the shooters were divided into groups that would rotate through the various stages. Shooting started at 21:30 each night, and went well into the dark hours of morning.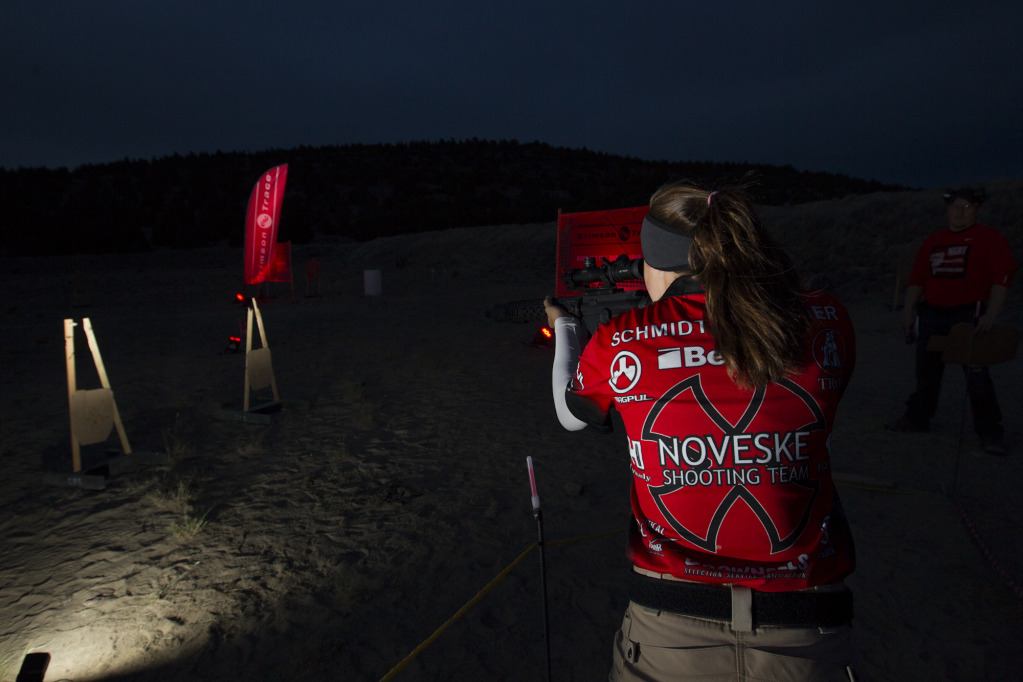 All the stages had clever names that kept things lighthearted and interesting.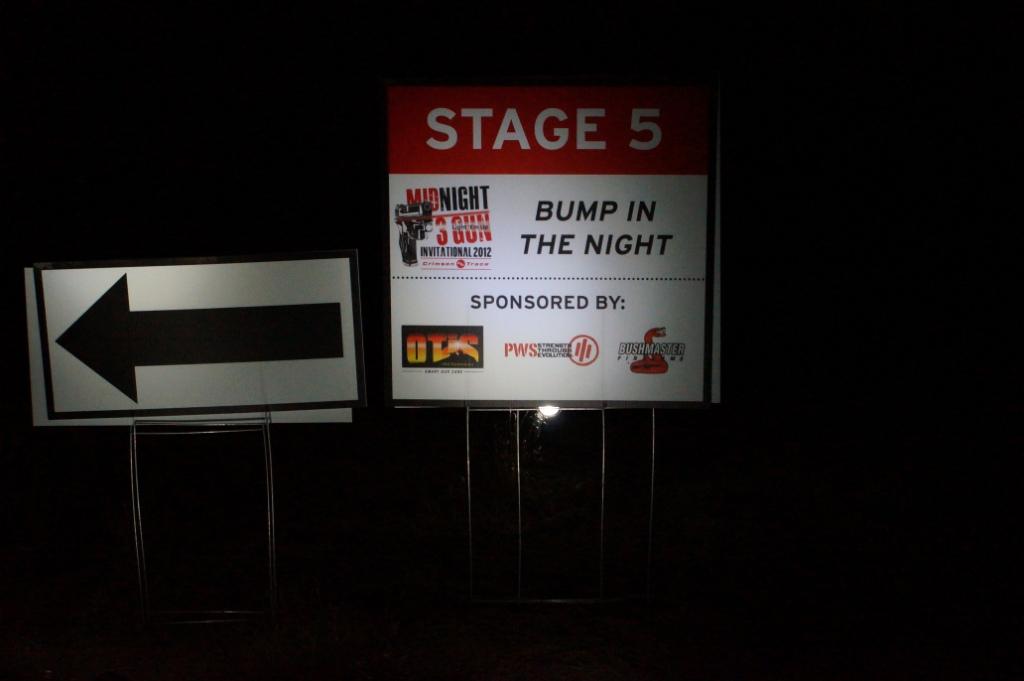 Of course, there were shoot houses. If you've never shot a shoot house in the dark, you're missing out!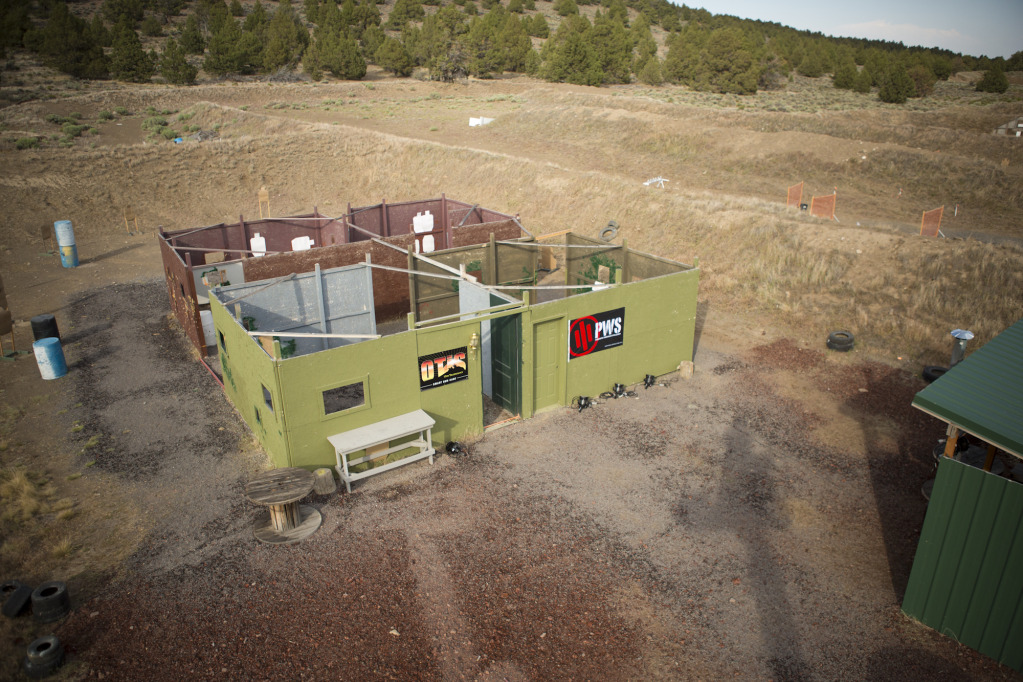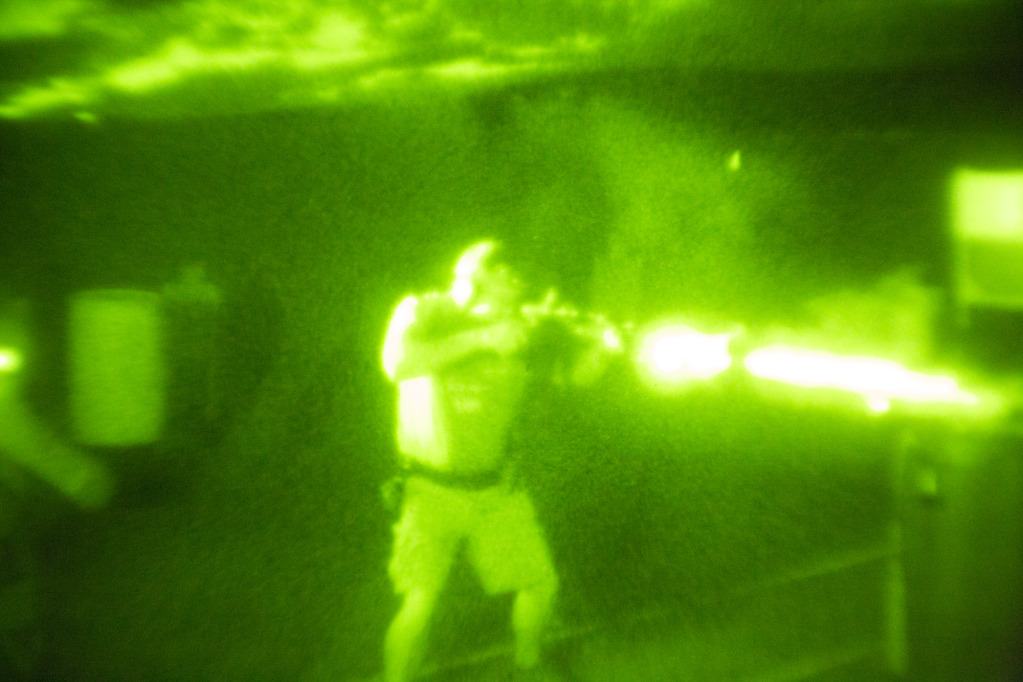 While Bend is beautiful, the desert was a little eerie. Especially the second evening.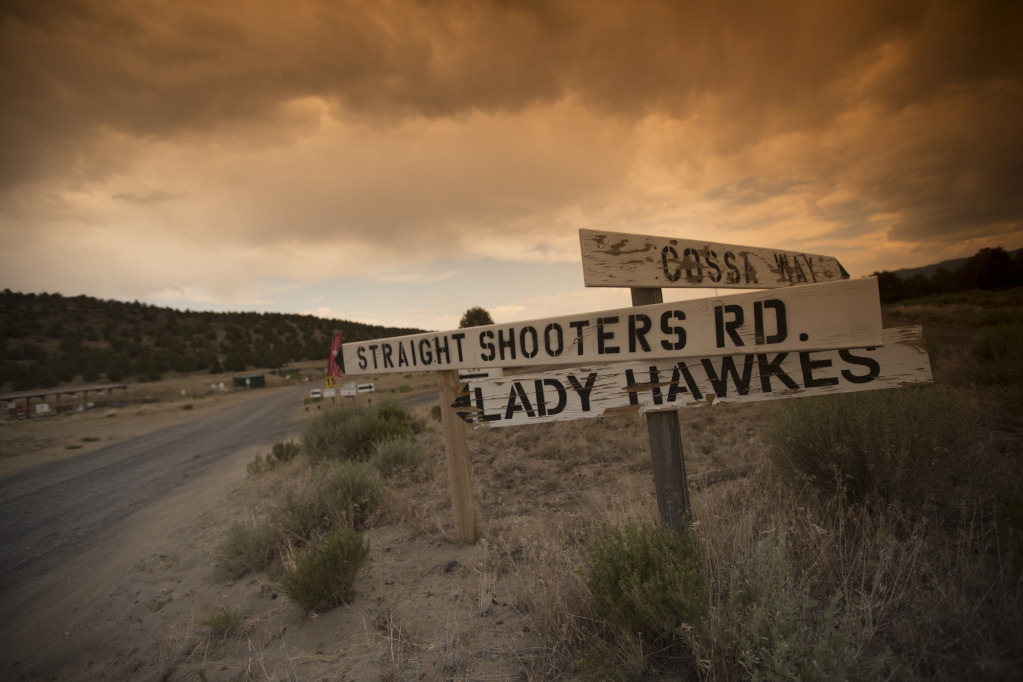 And what on earth could make lasers, flashing lights, and gunfire in the blackest of nights even more exciting? At about 01:00 of that second night (or should I say second morning?) a terrifying crash sounded overhead. That was when the lightning struck, reaching across the sky with its long, bony fingers in a flash. That storm was by far, the most exciting and yet scary storm I had ever witnessed. Some were worried that the flashes of light were giving shooters advantages, or disadvantages; but I didn't care. I just wanted to stay in that moment, surrounded by pure atmospheric chaos and blasting gunfire.
The thunder and lightning storm wasn't nature's only obstacle throughout these two nights:  we also endured rain, temperatures below freezing, and wind. Needless to say, the shooters' gear, skill, and determination  were all well -tested.
I'd like to thank Lewis Danielson (CEO of CTC) for bringing me cold-weather gear for the event. His generosity kept me nice and toasty when otherwise I would have been freezing my rear end off.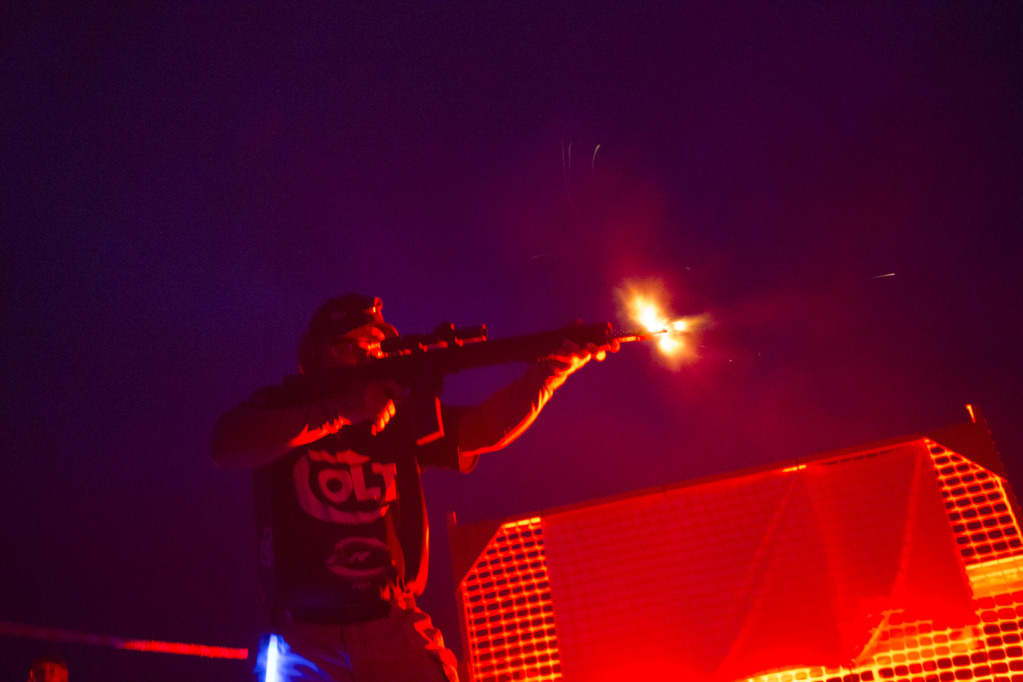 Match Results:
Grand Champion (and winner of the $10,000): SSGT Daniel Horner of the USAMU
Top Junior : Hayden Hixon
Top Lady: Kay Miculek
Some interesting facts about the match scores:
– SSGT Daniel Horner's shootng partner, Taylor Payne (also of the USAMU), won third place.
–  There was a mathematical error during the scoring process, and another junior shooter was mistakenly named the winner of Top Junior. Although this error was corrected – Colt Competition really stepped up to the plate and allowed the original named Top Junior to keep the rifle he was awarded, and provided another one for Hayden Hixon.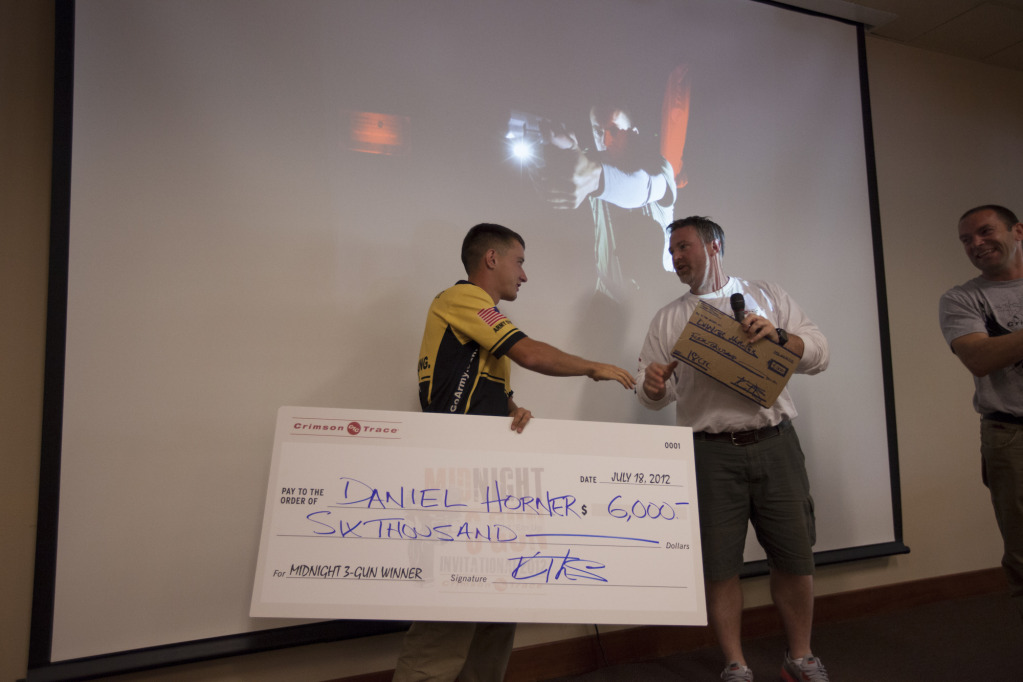 The completely awesome thing about a midnight match is that it takes place in the middle of the night and wee hours of the morning. On the flip –side; the completely exhausting thing about a midnight match is that it takes place in the middle of the night and the wee hours of the morning. I got approximately four hours of sleep Monday and Tuesday night, but oddly enough, I didn't care!  I am convinced that this bitter-sweet was an evil plan devised by Crimson Trace to push our limits and force an addiction to nights filled with intense stimulation and fun .  Oh yeah, and to get us hooked on their lasers… which everyone was, by the time everything was said and done.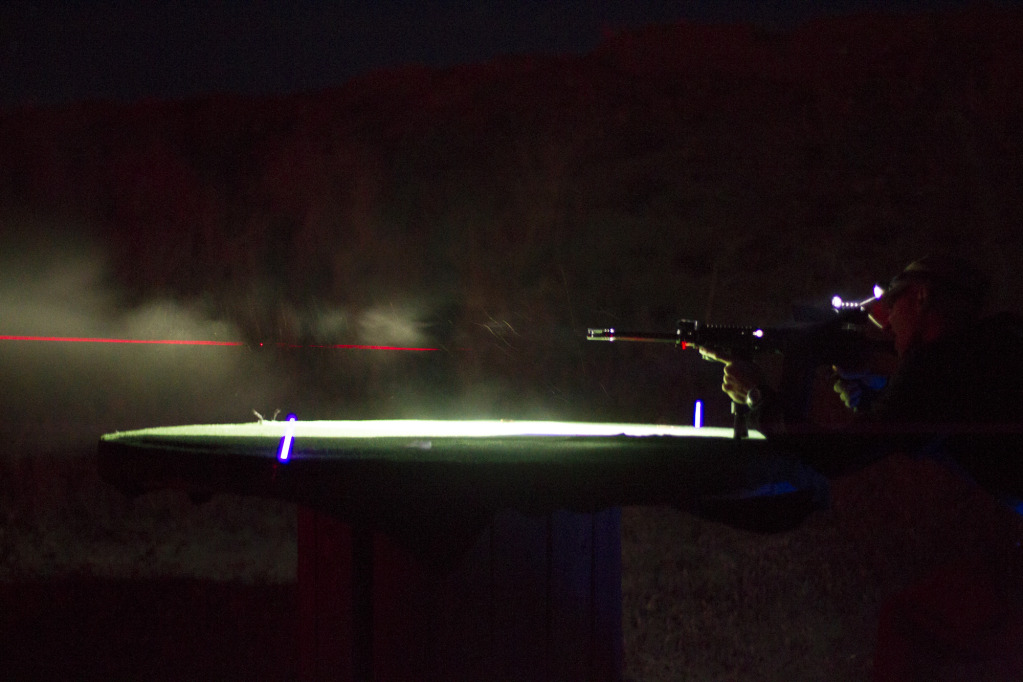 Overall, I think the entire event was a success. Everyone was raving (albeit between  yawns and with dark circles under their eyes) about how much fun it was, how great the event staff was, and how much they can't wait for next year.  I told Lewis Danielson (the CEO of Crimson Trace), that he really doesn't have much of a choice, CTC is now trapped into this shindig. Nobody will let them get away with skipping out on it next year.
Speaking of next year: I'm hoping that I can get some sponsors and some three gun training so that next year I can shoot it with my carbine instead of camera.
Some more pictures for your enjoyment: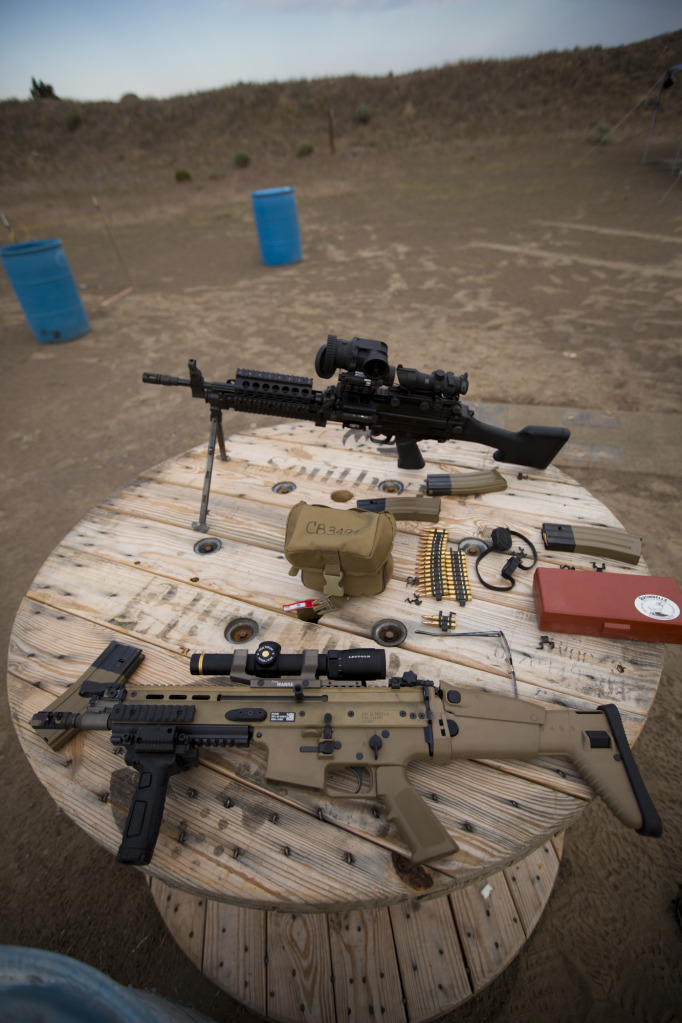 Some of you heard about  my little mishap in one of the out-houses. The door locked from the outside when I went in, and I was locked inside for a short while. Below is a picture of that out-house.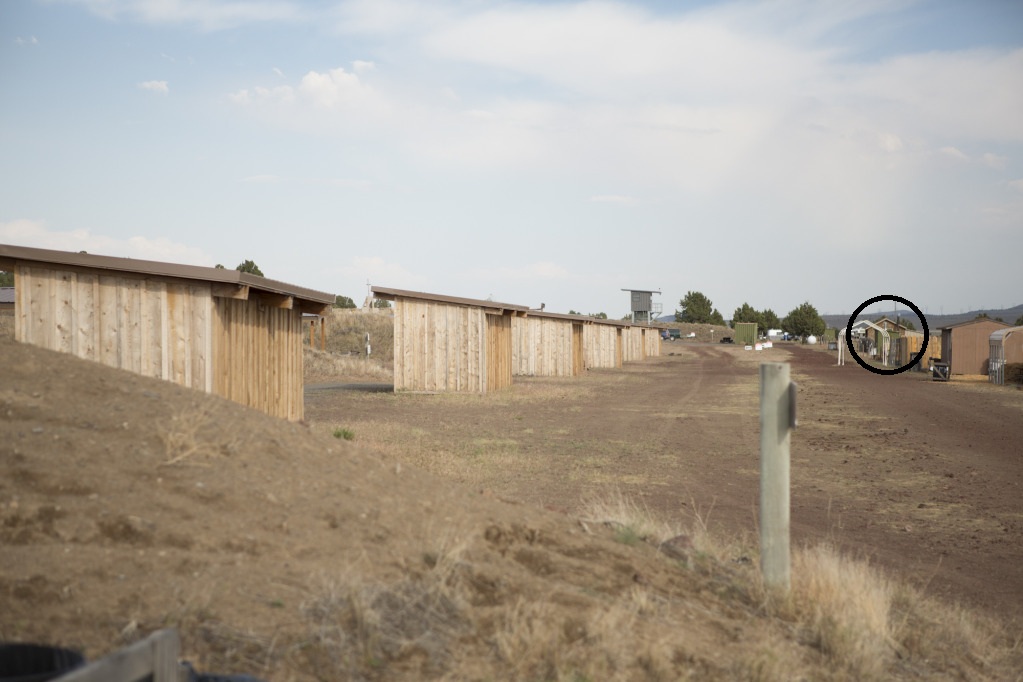 © Packing Pretty, Gracie McKee 2012
Photo Credit (All photos): Straub Collaborative